Maintenance Packages
Schedule Maintenance Packages
Help My Pool Is Green
A one time service, for $115 – $175 (for most average-sized-pools) and you should see results within 24-48 hours of treatment & cleaning.
Test the water chemistry
Adjust and balance water chemistry
Empty baskets
Skim water surface
Brushing sides of pool band
Overall diagnosis of pool (check for leaks, water level etc.)
Chemically Clean Water
Check for equipment operations
Filter Cleaning
Make your pool or spa work more efficiently. We recommend a filter cleaning every 6 months because your filter is working very hard keeping particles like our Arizona dust, dirt, landscape debris, bugs and hair out of the water.
It also helps to evenly distribute the chemical in the pool water so they too can work more effectively. Keeping your pool and spas water clean and healthy is our goal.
Scheduling seasonal maintenance for your filters is essential to preventing algae and bacteria growth as well as helping to avoid costly repairs. If your filter is clogged, your equipment is not running efficiently, putting undo stress on pool and spa pumps and in-floor systems.
Backwashing is done with each Sand Filter and DE Filter change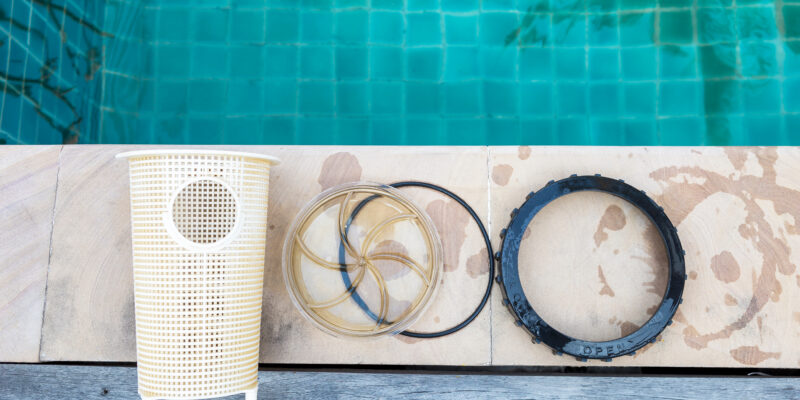 Lubrication of o-rings
$55
O-rings are a vital piece of equipment, if it fails, your system could shut down. They are one of the most popular seals used in pool equipment as they seal many thousands of pounds of pressure. If not properly maintained they can shrink or crack. Lubricating is part of normal maintenance and should be done with each filter cleaning.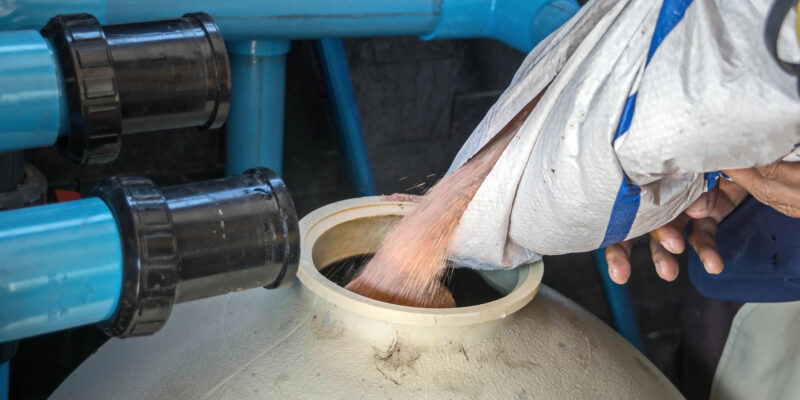 Sand Replacement for Sand Filters
$375
Changing the sand is recommended every 3-5 years for your Sand Filter. If you notice your water isn't as clear as it once was or that you are increasing your frequency of "Backwashing", it may be time to consider replacing the sand in your Sand Filter. The sand can become clogged with debris and after some time, the sand particles edges actually round out making it less able to trap debris.
Equipment Repairs
Having a pool is an enjoying way to spend time with family and friends.  Let's face it, pools like everything else need routine maintenance.  Neglecting necessary repairs can make the problem worse and could cost more in the long run.  Fixing issues as they arise lets you enjoy your pool now and throughout the season.  We can help you diagnose the problem and offer you solutions to start your repairs and get you back into the water.
Schedule Equipment Repair
Equipment Replacement
Is your pump making a loud noise?  Or is the pump on and the water isn't moving?  Parts fail over time and our intense heat doesn't help either.  Let us help identify and fix the problem.
Pool light bulbs failing is another common issue.  Incandescent lights don't last very long and need frequent replacement.  This is a repair job you should never attempt yourself.  Other issues with pool lights are the fixtures themselves, or a failing lens gasket.  This can cause the light to short out.
Did you know there are LED lights available?  LED uses the least amount of energy of all lighting options.  They are more durable and longer lasting too.  They last thousands of hours compared to the standard incandescent light bulbs.
Common pool heater problems; Pilot light won't turn on, heater won't ignite, doesn't reach desire temperature, cycles on and off, leaking…  Let us help diagnose your problem and offer you a solution.
Schedule Equipment Replacement
Automation
With today's technology, you can control heaters, pumps, water features, pool and spa lights, landscape lights, timers and more on your mobile device. This is an awesome feature for rentals too! You can monitor usage and reduce operating cost which saves energy and water. Renters sometimes run the heater 7/24 or accidently leave the heater running overnight or forget to turn it off once they depart.
With automation you can turn the heater on before your arrival – no down time
Set your pump and heater to run on a schedule – while you're in town, maybe you want to run during the day, but once you return home you can set it to run at more efficient times, saving your money.
Kids in the pool by day and you want to jump into the spa or hot tub when you get home from work. No problem, open the app and from anywhere at any time you're in control.
Pool Operations Systems Check
($125 for most avg. pools)
($95 for current customers)
We will inspect drains, lights, handrails and ladder to make certain they are operating and properly in place.
Inspect filters, pumps, heaters, plumbing, time and all other electrical components for leaks, crack or other damage
This Systems Check is best utilized prior to the start of the season – this will enable you to arrive and know that your heater stays on and heats to the temperature you desire.  No last minute snafus, prior to that important event.
This service is more comprehensive than your weekly pool service visits.  During your weekly service, your electrical pool equipment is inspected for power.  However, a longer visit time is necessary to fully inspect the operations and heat settings during our Pool Operations Systems Check.  This also allows us to check for leaks while the system is in full operation.
Landscape Lighting & Design
Would you like to refreshen or renovate an area of your landscape? After several seasons in our hot Sonoran Desert, landscape plants can look tired, or have reached maturity and could be in the beginning of "the end" of their lifecycle. Other times they may not have been planted in the correct place, as some plants prefer full sun while others prefer partial or no sun at all.
This is a number one reason to contact a Professional Landscape Designer. We are trained to know plant material and proper use of plantings. We use our training, past experience and industry expertise to create gardens and living outdoor spaces. Personally, I love to use my sense of color and spatial design sensibilities to create a space that combines thoughtful solutions tailored to your desert life style here in North Scottsdale.
Upon our initial meeting I do a site analysis and based on that, we can narrow down the options to meet your wants and wishes while having them meld with the existing landscape. By working with a seasoned professional, we can develop a sustainable design.
The design process requires imagination and creativity. We will work to provide a reasonable, budget friendly design. Once we have finalized the design, I will acquire your plants and manage the installation. Almost every project will have some "unknown" during installation or construction process. Having your landscape designer onsite will ensure that our vision comes to life and minimize any unforeseen pitfalls. I am happy to work with your landscaper or mine, whichever suits you.
Desert Mountain and surrounding HOA's have specific guidelines to ensure that developed areas harmonize and blend with the desert's natural environment. They have protected plants, as well as prohibited plants. It is important to seek a professional to help avoid making costly planting mistakes.
Whether you are looking to create a garden bed filled with an array of local desert plants that thrive in the dry heat or create a rock garden or focal point, Desert Mountain Pool Care & Landscape Design can help walk you through the process.
We also create disappearing water features to provide the relaxing and tranquil sound of trickling water while you enjoy your morning coffee or a glass of wine. Commercial grade Landscape Lighting illuminates' pathways, driveways and garden beds. They add a beautiful depth to your design when night falls and is perfect for entertaining and also quiet time.
Schedule Your Consultation Now