Arizona's #1 Commercial Pool Service Company in Scottsdale
Get Professional Year Round Pool Care
Scottsdale Commercial Pool Service, Repairs & Maintenance
Ask for our full treatment of commercial swimming pool cleaning and maintenance packages.
Test the water chemistry
Adjust and balance water chemistry
Empty baskets
Skim water surface
Brushing sides of pool band
Overall diagnosis of pool (check for leaks, water level etc.)
Chemically Clean Water
Check for equipment operations
Request Quote or In-Person Assessment
Filter Cleaning
Maximize the efficiency of your commercial pool or spa effortlessly with our specialized services. We understand the unique challenges faced by commercial pools, especially with the heavy usage from guests.
Due to the Arizona dust, dirt, debris, bugs, and hair, for optimal operation, we recommend comprehensive ongoing filter cleaning to ensure the filter system is doing it's job and extends equipment life. It also ensures the even distribution of pool chemicals, promoting optimal cleanliness and health. Our proven methods help keep your commercial pool water pristine.
Scheduling seasonal filter maintenance is vital to prevent algae and bacteria growth, ensuring a safe and enjoyable environment for your guests. Neglecting filter care can lead to clogs, hindering equipment efficiency and stressing pool and spa pumps, as well as in-floor systems which quickly escalates to replacing vital system parts and motors. Trust our commercial pool services to maintain your filters and overall equipment, guaranteeing a safe and enjoyable swimming experience for all.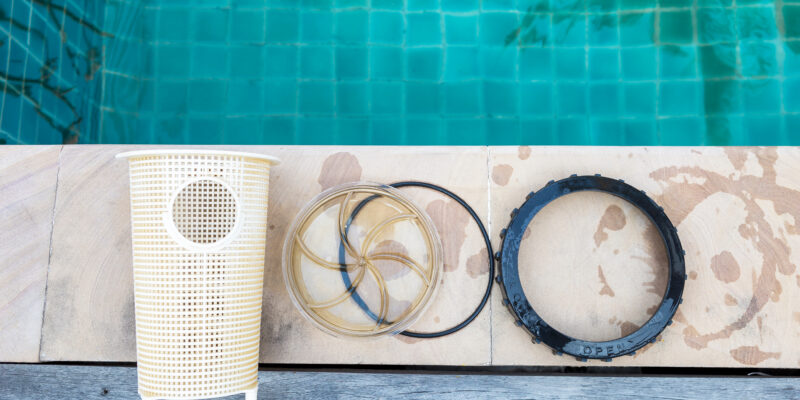 O-rings are a vital piece of equipment, if it fails, your system could shut down. They are one of the most popular seals used in pool equipment as they seal many thousands of pounds of pressure. If not properly maintained they can shrink or crack. Lubricating is part of normal maintenance and should be done with each filter cleaning.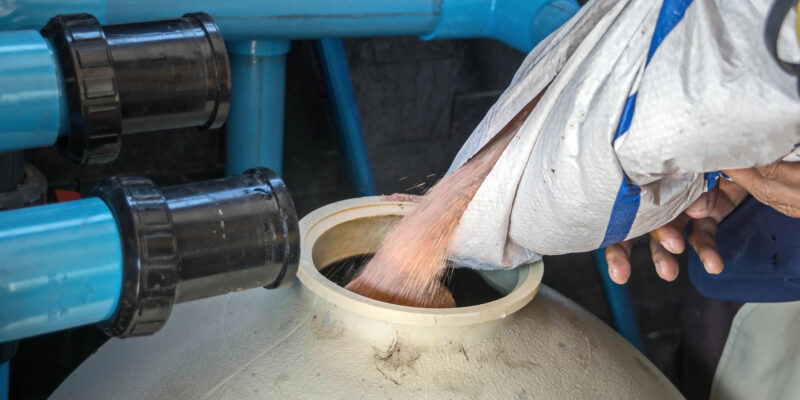 For optimal performance, we recommend changing the sand in your commercial pool's Sand Filter sooner than the typical 3-5 year residential replacement cycle. If you observe a decline in water clarity or find yourself backwashing more frequently, it's a sign that the sand in your Sand Filter may need replacement. Over time, debris can clog the sand, and the edges of the sand particles may round out, diminishing its ability to effectively trap debris. Regular, more frequent sand changes will help maintain the efficiency of your commercial pool's filtration system.
Commercial Equipment Repairs
Thank you for considering Desert Mountain Pool Care & Landscape Design for your commercial property.
We are a comprehensive pool and spa company catering to Scottsdale, including Cave Creek and neighboring communities. Our extensive range of services elevates the maintenance of swimming pools, spas, and hot tubs, encompassing reliable repair and equipment replacement. Recognizing the importance of your pool and spa as your personal oasis, we take pride in providing exceptional and timely service.
At Desert Mountain Pool Care & Landscape Design, we understand the pivotal role a well-maintained pool plays in enhancing the overall ambiance of your business or hospitality venture. Whether you're in need of routine maintenance, urgent repairs, or equipment replacement, our dedicated team is well-equipped to deliver timely and exceptional service.
Experience the difference with Desert Mountain Pool Care & Landscape Design – where exceptional service meets personalized attention.
Schedule Equipment Repair
Equipment Replacement
Is your commercial swimming pool's pump producing unusual noise, or is the water stagnant despite the pump being on? The relentless wear and tear on parts, exacerbated by our intense heat, often lead to issues. Let our expertise identify and resolve these problems, ensuring your commercial pool equipment operates seamlessly.
Another frequent concern involves failing pool light bulbs. Incandescent lights, commonly used, require frequent replacement. This task isn't advisable for DIY attempts. The problems may stem from faulty fixtures or a deteriorating lens gasket, resulting in short circuits. Did you know about the superior alternative of LED lights? They consume minimal energy, boast durability, and significantly outlast standard incandescent bulbs, providing thousands of hours of illumination.
When it comes to pool heaters, common issues such as a non-igniting pilot light, failure to reach desired temperatures, cycling irregularities, or leaks may arise. Our team specializes in diagnosing and offering solutions for these commercial pool heater challenges, ensuring optimal functionality for your business or facility.
Schedule Equipment Replacement
Commercial Swimming Pool Automation
Harness the power of today's technology to efficiently manage your commercial pool equipment. With automation, you gain control over heaters, pumps, water features, pool and spa lights, landscape lights, timers, and more—all from your mobile device. This cutting-edge feature is especially beneficial for commercial rentals, allowing you to monitor usage, reduce operating costs, and conserve energy and water. Renters may unintentionally leave the heater running 24/7 or forget to turn it off upon departure, but with automation, you regain control.
In the commercial setting, where efficiency is crucial, automation plays a pivotal role. You can eliminate downtime by remotely turning on the heater before your arrival. Schedule your pump and heater to operate efficiently during your presence in town, and then adjust it to run at optimal times when you return home, ultimately saving you money.
Imagine having kids enjoying the pool during the day, and when you return from work, you want to unwind in the spa or hot tub. No problem—simply open the app from anywhere, at any time, and take full control. In today's commercial environment, where cost-effectiveness in maintenance and repairs is more critical than ever, automated pool equipment becomes an indispensable asset.
Pool Operations Systems Check for Commercial Pools
In our commercial pool operations systems check, we meticulously examine drains, lights, handrails, and ladders to ensure they are not only operational but also securely in place.
Our inspection extends to critical components such as filters, pumps, heaters, plumbing, timers, and all electrical elements, diligently checking for any signs of leaks, cracks, or other damage. This comprehensive assessment is particularly advantageous when performed prior to the start of the season. By doing so, you can confidently arrive at your commercial pool, knowing that your heater is functioning flawlessly and maintaining the desired temperature. This proactive approach eliminates last-minute hiccups, especially before crucial events.
It's important to note that our pool operations systems check goes beyond the scope of regular weekly pool service visits. While weekly service ensures your electrical pool equipment has power, our extended visit duration during the Pool Operations Systems Check allows us to thoroughly inspect operations and heat settings. This comprehensive examination also enables us to identify and address potential leaks while the system is in full operation.
Landscape Lighting & Design
Revitalize and enhance the landscape of your commercial property, be it a hotel, multi-housing development, HOA community, or gated community. Over time, the harsh Sonoran Desert conditions can leave your outdoor spaces looking tired, with plants reaching the end of their lifecycle or not thriving due to improper placement.
Engage a professional landscape designer for a solution tailored to the unique demands of North Scottsdale's desert lifestyle. Our expertise lies in understanding plant material and optimal usage, drawing on training, experience, and industry knowledge to craft gardens and outdoor spaces. I take pleasure in applying my color sense and spatial design skills to create outdoor environments that align with your preferences.
During our initial meeting, a thorough site analysis guides us in tailoring options to your desires while ensuring seamless integration with the existing landscape. Working with a seasoned professional allows us to develop a sustainable design that fits within your budget. Once the design is finalized, I handle plant acquisition and oversee installation, ensuring our vision comes to life while minimizing unforeseen challenges.
Given the specific guidelines set by Desert Mountain and surrounding HOAs to preserve harmony with the desert environment, it's crucial to consult a professional to avoid costly planting mistakes. We navigate these regulations seamlessly, whether you seek to cultivate a garden bed with thriving local desert plants or create a rock garden or focal point.
Beyond plant-focused enhancements, we specialize in creating disappearing water features, providing a soothing sound of trickling water for moments of relaxation. Our commercial-grade Landscape Lighting not only illuminates pathways, driveways, and garden beds but also adds depth to your design, making it perfect for both entertaining and quiet evenings. Let Desert Mountain Pool Care & Landscape Design guide you through the process of transforming your commercial outdoor spaces into havens of beauty and tranquility.
Schedule Your Consultation Now